A threatened Georgia wildflower needs your help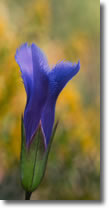 Conservation Concern
- Fringed Gentian is extremely rare in North Georgia. It lives in only a few locations in Towns and Union Counties.
- The future of Fringed Gentian in Georgia is threatened by habitat destruction, lack of adequate sunlight, and improper roadside maintenance (mowing, herbicides, and damage by heavy equipment).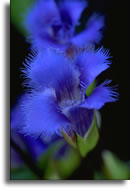 How you can help save the Fringed Gentian from extinction in Georgia
- Support management practices where Fringed Gentian occurs that are beneficial to this light-loving plant: control of woody vegetation through timber removal, prescribed burning, or mowing.
- Do not mow where Fringed Gentian occurs from mid-July through January.
- Report occurrences of Fringed Gentian on your property to receive management advice. Note: Landowners are under no legal obligation to report, protect, or manage threatened plants. Landowners are encouraged to participate in Fringed Gentian's protection by allowing monitoring (photos, flower counts) of these wildflowers on their property.
- Discourage flower picking and removal of plants, flowers or seeds.The plants persist only by their seeds.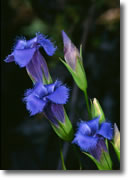 Fringed Gentian's Natural History
- As biennial herbs, Fringed Gentians live for two years. They flower only in their second season.
- First-year plants are quite small (ground level and up to 2 inches wide) and lack flowers.
- Second-year plants are 1 to 3 feet tall.
- The flowers are iridescent blue on long stalks. They have four finely fringed petals approximately 2 to 3 inches long.

- First-year plants are quite small (ground level and up to 2 inches wide) and lack flowers.
- The flowering period is from late September to early November. Fruits develop November through January. Seed erminate following a cold season.
- Because the Fringed Gentian only opens in direct sun, it is best spotted on bright sunny days during the peak of flowering.
- Found in shallow, near-neutral soils, in damp, sunny meadows associated with magnesium rich rock (amphibolite, serpentine).

- Often spreads and persists in nearby disturbed grassy areas on roadsides, and under powerlines.
- Ranges from the southern Appalachian Mountains north into New England and west to Manitoba and Iowa. It is uncommon in much of its range. It is very rare in the Southeast.

Historical Background
The Fringed Gentian's fleeting, exquisite beauty has had the attention of artists and poets for hundreds of years. It has inspired well known 19th century writers such as William Cullen Bryant, Emily Dickinson, and Henry David Thoreau. Fringed Gentian is in the Gentian Family (Gentianaceae), which is known for its medicinal value. The Fringed Gentian potentially has medicinal properties. In 1964, Fringed Gentian was first discovered in North Georgia. It was designated as State Protected (Threatened) in 1992. "It (Fringed Gentian) came very near not being an inhabitant of our latitude, perhaps our globe, at all."
-Thoreau

To The Fringed Gentian
Thou blossom bright with autumn dew,
And colored with the heaven's own blue,
That openest when the quiet light
Succeeds the keen and frosty night.
Thou comest not when violets lean
O'er wandering brooks and springs unseen,
Or columbines, in purple dressed,
Nod o'er the ground-bird's hidden nest.
Thou waitest late and com'st alone,
When woods are bare and birds are flown,
And frosts and shortening days portend
The aged year is near his end.
Then doth thy sweet and quiet eye
Look through its fringes to the sky,
Blue--blue--as if that sky let fall
A flower from its cerulean wall.
I would that thus, when I shall see
The hour of death draw near to me,
Hope, blossoming within my heart,
May look to heaven as I depart.
-William Cullen Bryant, 1832

For more information or to report Fringed Gentian on your property, please contact:
The State Botanical Garden of Georgia's Plant Conservation Program
2450 S. Milledge Avenue
Athens, Georgia 30605
706-542-6448
http://www.uga.edu/gpca/
Fringed Gentian conservation is a priority project of The Georgia Plant Conservation Alliance, an innovative network of public gardens, government agencies, and environmental organizations committed to preserving Georgia's endangered flora. Formed in 1995, GPCA initiates and coordinates efforts to protect natural habitats and endangered species through biodiversity management and public education. From rigorous scientific research to hands-on stewardship projects with elementary schools, the combined resources, expertise and outreach strategies of GPCA members provide powerful tools for plant conservation in Georgia.
Information maintained by the Georgia Natural Heritage Program, a unit of the Georgia Department of Natural Resources. Photos by Hugh and Carol Nourse. Flowering plant drawing by Vicky Holifield. First-year plant drawing by Heather Robertson.
Publication date: July 2002, © Georgia Plant Conservation Alliance