Posted under: Road Trip; Roadside Botanizing; South Georgia.
July 13 and 14, 2013,  Roadside Botanizing: Waycross to the St. Marys River (Saturday) and eastern Okefenokee Swamp (Sunday) 
Saturday Trip: Meet: 10:00 AM,  Hampton Inn Waycross
Description: We will travel along Hwy 82 take 301 south to Folkston, then take GA 23 south past the entrance to the Okefenokee all the way to the St. Marys River (the southernmost point in GA).  Then take GA 185 north to GA 94, then east on GA 94 back to GA 23 and a return to the hotel We will investigate interesting stuff along the road such as few-flowered milkweed (Asclepias lanceolata), short-stemmed meadow beauty (Rhexia petiolata), Pickering's dawnflower (Stylisma pickeringi), snowy orchid (Platanthera nivea), yellow meadow beauty (Rhexia lutea), and Bartram's rose gentian (Sabatia bartramii). We also may re-encounter large-flowered rose gentian (Sabatia grandiflora).
Directions: Take I-75 south to US 82. Take US 82 east to Waycross. Hampton Inn is on US 82 just past intersection with US 1.
Bring:  Lunch to eat on the road – purchase along the way will be difficult due to extremely sparse pickings, water, bug spray..
Walking: Short excursions along the roadside, never out of sight of the vehicles – can be muddy or wet.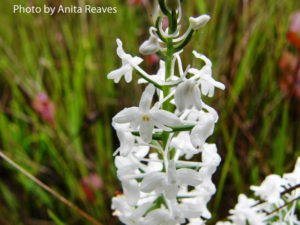 Facilities: Possible at stores/stops along route, but unlikely after leaving hotel.
Carpooling is encouraged to make pulling off easier for our roadside botanizing.
Trip Leader:  Rich Reaves,  rich.reaves@att.net