Posted under: North Georgia.
Meet: 10:00 AM – We will meet at the home of Jennifer & David Kearns, 670 Rush Chapel Road, Adairsville, GA 30103.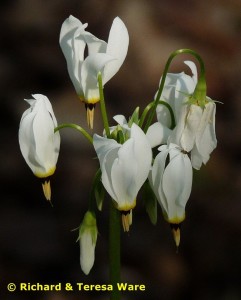 Description:  Shooting Stars & Other Flowers / Kearns Property. We will explore at least two different sites on Jennifer and David Kearns property in northeastern Floyd county. There are natural populations of several beautiful and rare plants including Shooting Stars (Dodecatheon meadia), Dwarf Larkspur (Delphinium tricorne), Jacob's Ladder (Polemonium reptans), Buckeyes (Aesculus sp.) and other wildflowers, plus one really huge Shumard Oak (Quercus shumardii). Afterward, time permitting, there may be an additional opportunity to botanize.
Directions: Take I-75 north from the Atlanta / Marietta area. Take exit #306 (Ga. 140) in Adairsville. Turn left (west) on Ga. 140 and continue for 7 miles. Turn left onto Rush Chapel Road (look for Rush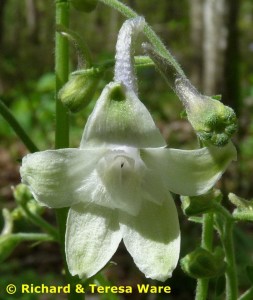 Chapel United Methodist Church sign on the right). If you get to Ga. 53 you have gone too far, turn around and Rush Chapel will be 1 mi. on the right. Once on Rush Chapel the driveway is 1.5 mi. on the right, #670.
Facilities: Yes, at meeting and lunch site
Walking: Approx. 1  to 1 ½ mi. total for the day. Trails are relatively flat, easy.
Bring: Lunch to eat outside (weather permitting), water, hand lens, camera, bug spray.
Leader(s):  Richard Ware – 706-232-3435