November 1, 2014, Fall Color & Tree ID, Berry College Campus, Floyd County
Posted under: North Georgia .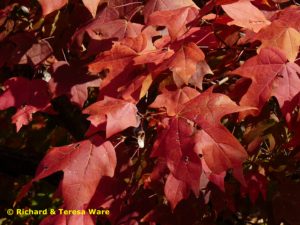 Fall Color Hike / Tree ID, Saturday, November 1, 2014 10:00 am
Field Trip Leader(s): Richard & Teresa Ware
Description: We hope to see some actual fall color and ID trees along the way on this trip, which is timed at the same date when color peaked last year, but you never know. The plan right now is to walk around Victory Lake at Berry College for the brilliant red / orange leaves of the chalk maple (Acer leucoderme) and a bunch of other trees. We might take a few side trails if I find "goodies" when scouting out the trip. We also plan to walk around the campus for the brilliant reds of the red maple (Acer rubrum), the virbrant yellows of American yellowwood (Cladrastis kentukea), and hickory (Carya sp.). We may see the national champion southern sugar maple (Acer floridanum), the state champion northern catalpa (Catalpa speciosa) and other Berry College unique sites. 
Location & Directions: Take I-75 to exit 290 (GA 20). Follow GA 20 and US 411 to Rome. At first traffic light (GA Loop 1) turn right, go to US 27, turn right. At next traffic light, turn left into the main entrance to Berry College. Turn left just before the guard house. Turn right into the first parking lot, which is behind Krannert Center. If this road is closed, go past guard house and ¾ around circle and turn right and immediately take the first left to access parking lot behind Krannert. Restrooms available inside.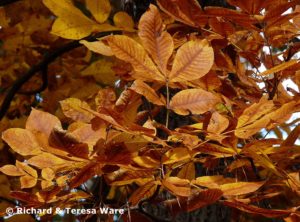 Meet: 10:00 am at the parking area behind Krannert Center, Berry College.
Bathroom Facilities: Meeting site only.
Walking Difficulty: This hike is on flat terrain ~ 1 to 1 ½ mi.
Bring:  Lunch (to eat at picnic tables) & water. Remember to dress for the weather and wear comfortable hiking shoes. Dress in layers so that you can adjust to changes in the temperature and your activity level. You may wish to bring binoculars, hand lens, notebook, and camera.
Contact: Richard & Teresa Ware – 706-232-3435 – (cells) 706-766-5143, 706-766-4228 – e-mail (gabotany@comcast.net)