July 19, 2014, Summer Tree ID Workshop, Dunwoody Library, DeKalb County
Posted under: Atlanta area; Workshops .
Meet: 10:00 AM – in the Williams Room, Dunwoody Library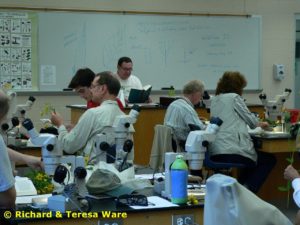 Description: Summer Tree Identification Workshop. The morning session at the library will be a workshop teaching participants how to identify the major genera of trees in the summer condition, mostly using leaf characteristics. This session will last until ~1:00pm. Then most will enjoy lunch at a local Mexican Restaurant. Following lunch (if it's not too hot or raining) we will drive to the Big Trees Forest Preserve in Sandy Springs for a walk and to apply the knowledge gained at the workshop in the field.
Directions: From the West, take I-285E to Exit 29. Turn left onto Ashford-Dunwoody Rd. Bear right onto Mt. Vernon Rd. Turn right on Chamblee-Dunwoody Rd. The Library is on the left.
From the East, take I-285 North or West to Exit 29. Turn right onto Ashford-Dunwoody Rd. Continue right on Mt. Vernon Rd. Follow as above. Library address: 5339 Chamblee-Dunwoody Road, Dunwoody, GA  30338.
Bring: If you have these items, please bring: hand lens, measuring tool and either "Native Trees of the Southeast" by Kirkman, Brown & Leopold or "Trees of Georgia and Adjacent States" by Brown & Kirkman.
Facilities: On site.
Lunch: At local Mexican Restaurant or on your own.
Leader(s): Richard & Teresa Ware – 706-232-3435 – (cell) 706-766-5143 – gabotany@comcast.net