Sunday, April 27, 2014, Ft. Mountain State Park & Carters Lake Hidden Pond Trail, Murray County
Posted under: North Georgia .
Date: Sunday, April 27, 10:00 AM at Fort Mountain State Park, Murray Co., Ga. 
Meet: 10:00 am
Description: Walk approx. 2 1/2 mi. on backcountry trail at Ft. Mountain S. P. We hope to see Lily-of-the-Valley (Convallaria montana), Speckled Wood Lily (Clintonia umbellulata), Spotted Mandarin (Disporum maculatum), Vasey's Trillium (Trillium vaseyi), Pink Ladies Slippers (Cypripedium acaule), Dutchman's Pipe Vine (Aristolochia macrophylla), Doll's Eyes (Actaea pachypody), and many others. We will then eat lunch at picnic tables in the park. We will then travel to Carters Lake Rereg Dam Area, which will be on the way home for those traveling south, and walk a short 3/4 mi. trail. We hope to see an amazing array of plants including: Yellow Trillium (Trillium luteum), S. Nodding Trillium (T. rugelii), Virginia Bluebells (Mertensia virginica), Columbo (Frasera caroliniensis) (not in bloom), Shooting Stars (Dodecatheon meadia), Wild Columbine (Aquilegia canadensis), and others.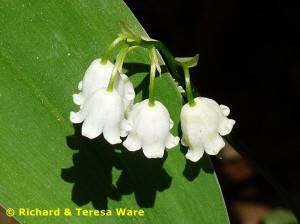 Directions to Meeting Place: From I-75 at Cartersville, Ga., take US 411 north to Chatsworth, turn right (east) on GA 52 and follow it to the entrance of the park (on the left). Drive past the office and take the first left, we'll meet in the large picnic area parking lot on the left.
 Lunch: We will eat in Picnic Area at Ft. Mtn. State Park. Do not carry lunch on walk.
 Hike: Approx. 3 ½ – 4 mi. total. Hiking Difficulty: Ft. Mtn.: Moderate to strenuous, Carters Lake: Easy
 Facilities: At meeting & lunch site.
 Trip Leaders: Richard & Teresa Ware (706-232-3435) (cell – 706-766-5143) (gabotany@comcast.net)