April 5, 2014, Coosawatee Bluffs and Carters Lake, Murray County
Posted under: North Georgia .
Meet: 10:00 AM –  at the end of the last parking lot near pavillion and restrooms, at Carters Lake Rereg Dam Recreation Area.
Description: Coosawattee Bluffs / Carters Lake:  We will carpool approx. 3/4 mi. to Coosawattee Bluffs. The walk to the river is an easy 3/4 mi. We will explore the river floodplain and bluffs on the south side of the Coosawattee river, where a few years ago we were introduced to one of the richest wildflower areas in Georgia, with more Dutchman's britches (Dicentra cucullaria) that we've ever seen. The site also contains the rare yellow fumewort (Corydalis flavula), along with Jacob's ladder (Polemonium reptans), Virginia bluebells (Mertensia virginica), decumbent trillium (Trillium decumbens), yellow trillium (T. luteum), nodding trillium (T. rugelii), Canada wild ginger (Asarum canadense), and much more. After lunch at the recreation area we will walk the Hidden Pond Trail for some of the same flowers as in the morning, plus shooting stars (Dodecatheon meadia), dwarf larkspur (Delphinium tricorne), wild columbine (Aquilegia canadensis), harbinger-of-spring (Erigenia bulbosa), narrow-leaf toothwort (Dentaria multifida), columbo (Frasera caroliniensis) (not in bloom), and many more.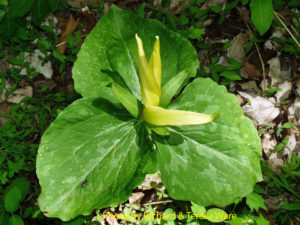 Directions: Take I-75 north from the Atlanta / Marietta area. Take exit #293 Ga. 61/US411/Chatsworth Highway. Turn right (north) on US 411. Continue through White and Fairmount. Continue north on US 411 for 10.9 miles to intersection of Ga. 136. Turn right on Ga. 136, cross RR tracks, turn left at next intersection, old US 411. Drive approx. 1/2 – 3/4 mi. turn right at signs for Carter's Lake Rereg Dam Rec. Area. If you reach one-lane bridge you've gone too far.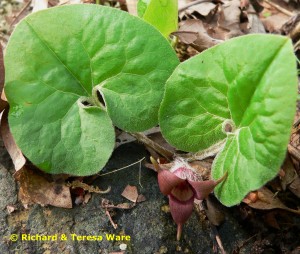 Facilities: Yes, at meeting and lunch site.
Walking: Approx. 1  to 1 ½ mi. in morning and ¾ to 1 mi. in the afternoon. Trails are relatively flat, easy.
Bring: Lunch to eat at picnic tables and extra water.
Leader(s): Richard & Teresa Ware – 706-232-3435 – (cell) 706-766-5143 – (cell) 706-766-4228 (reception may be limited at field trip site).