March 8-16, 2014, Sonoran Desert Annual Blooms, Arizona
Posted under: First Time for BOTSOC; Other states .
Pre-registration required!  Contact Richard Reaves, rich.reaves@att.net, 770-827-5186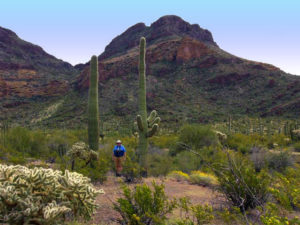 Sonoran Desert in March, Organizer is Rich Reaves (March 8 – 16 or portions thereof)
Early spring trip to enjoy Sonoran Desert annual blooms.  What we will not see is blooming of the large cacti (Saguaro, Organ Pipe, and various barrel cacti).  Some of the barrel cacti may have a few blooms, but no Saguaro or Organ Pipe – they typically bloom in May when it is already very hot, and the Organ Pipe bloom at night making them even more difficult to catch in bloom.  What we should see – copious desert annuals, blooms on several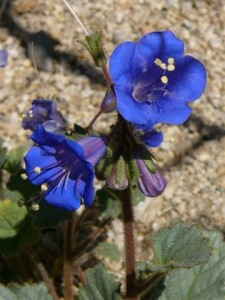 of the smaller cacti (hedgehog, cholla, etc), and wonderful desert scenery.
A proposed itinerary:
Day 1 (Saturday March 8): Arrive in Tucson by evening.  Have a BotSoc gathering at a las Cazuelitas de Tucson (1365 W Grant Road, Tucson, AZ 85745, adjacent to Hampton Inn) to go over plans for the week.  Plan on meeting 6-6:30 PM – The Mariachi band I have heard here in the past is quite good)
Day 2: Sonoran Desert Museum  – worth a day here, but plan to pack in a lunch as the onsite food counter is overpriced and limited.  Afterwards we would hit the Saguaro NP Visitors Center.
Day 3 – Tucson Mountain County Park in the morning (Actually much larger than the western portion of Saguaro NP and loaded with Saguaro and plenty of annual blooms.  There are a couple of short trails we can knock out along with a nice overlook.
Afternoon/early evening – King Canyon Wash and King Canyon Trail in West portion of Saguaro NP.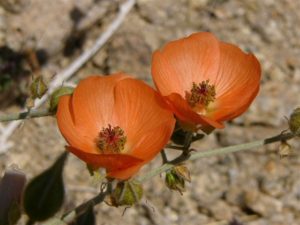 Day 4.  East portion of Saguaro NP – long loop drive with short excursions at various locations along the route.  Possible longer trail hikes within this area (maybe park cars at one end and hike through, but will require strict planning as loop is primarily 1-way road).
Day 5 – Sabino Canyon Recreation Area
Day 6 – Colossal Cave Mountain Park (junction of Sonoran and Chihuahuan Deserts – some plants from both desert types.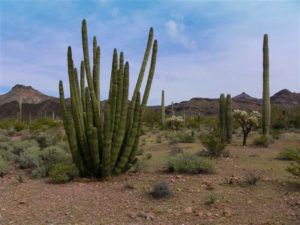 Day 7 – (Group may split here):  Some staying in general Tucson area: Day 6 – A junket up to the nearby mountains and Coronado National Forest (Never been there, but presumably there would be different habitats up there (road goes up to 9,000 ft or thereabouts – sky islands and the like).
Some going westward to Organ Pipe Cactus NM – Ajo Mountain Drive with a long loop hike in the middle. Plan on an early start to this day due to the distance to OPCNM.  Time permitting, we can do a couple of short hikes on the other side of OPCNM in the afternoon.  This will be a pack a lunch, snacks, and plenty of water day.  It is remote desert after you turn south at Why.
No lodging over there, just camping – Plan to spend night in Yuma.
Day 8 –  Various trail options in Saguaro NP or Coronado NF near Tucson.
For the western group, Joshua Tree NP in California (about 4.5 hours west of Tucson – Strongly consider spending the night in Gila Bend if you opt for this.
Day 9 for those who stay this long.  Optional trails during the day, potential for full-moon night hike from Saguaro NP visitors center (I've done one, really cool to wander the desert "after dark".).
All photos by Anita & Rich Reaves